On the shoulders of giants: a look back at a legendary blues artist of the past
Newsletter issue 3, 6th Jul 2020
Arguably the most famous and influential blues artists of all time is the focus of this special edition's 'On the shoulders of giants' feature – none other than the inimitable B.B. King.
Born on a cotton plantation between Indianola and Itta Bena, Mississippi – true Delta Blues country – on 16th September 1925, young Riley B. King had before him much the same prospects as the rest of his sharecropping family. Life was hard and sparse with little in the way of success likely for a poor black boy from the deep south.
It was in these cotton fields, though, that Riley would experience his very first taste of early blues, sung by his fellow workers. The rhythmic chants and atmospheric harmonies sung by the cotton-pickers would remain with him throughout his successful career, with King noting in 1988 that: "When I sing and play now I can hear those same sounds that I used to hear then as a kid."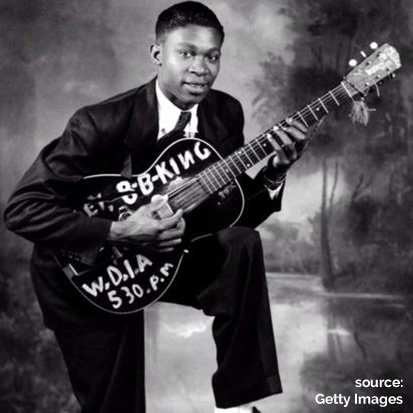 Young Riley was also influenced by the reverend at his local church who was the first person he ever heard play an electric guitar (an experience which King would later described as "heaven"), and despite the trauma of his parents splitting up when he was young and his mother dying when he was only 9, by the time his teenage years rolled around Riley was a fully paid up music lover determined to pursue his ambition of becoming a successful blues musician.
After obtaining a guitar and spending many weekends earning extra money by busking on street corners, Riley went all in and hitchhiked his way to Memphis to stay with his cousin, the acclaimed guitarist Booker 'Bukka' White, in an attempt to make it big. While there, he spent time learning all he could off Bukka, but his inability to play slide guitar as well as his cousin – "I have stupid fingers" – led to him developing his own style. This new way of playing became Riley's trademark sound – a mixture of shimmering vibrato and dynamic string-bending. The rest, as they say, is history.
Riley's talent was so phenomenal that he quickly gained a slot on Sonny Boy Williamson's radio programme on KWEM out of West Memphis. Success continued on another Memphis radio station - WDIA – where Riley was rewarded with his own 10-minute segment called 'King's Spot', and it was at this point he adopted the more catchy stage name that is known the world over today, B.B.King (short for 'Blues Boy' King).
His star rose rapidly throughout the 1950's, with hits such as 'Every Day I Have the Blues' and 3 O' Clock Blues' earning him a place amongst the very best of his peers. With the advent of rock and roll in the mid-1950s, King made sure to distance himself from the new craze, remaining faithful to his first love, the blues. Not that King disliked rock and roll music, he incorporated it into his own music in later years in fact, rather the blues was an important part of his identity and was something he considered worth keeping alive. This viewpoint stuck with him for life, as shown in the 1970s where he continued to "fight for the blues" despite 'the emergence of soul as the voice of black America' and the classic bluesmen being viewed as "illiterate and dirty".
King said:
"The things [other black] people used to say about those I thought of as greats in the business, the blues singers, used to hurt me . . . [t]o be honest, I believe they felt like they were trying to lift [their own] standards . . ."

"The blues are almost sacred to some people . . . they mean so much to me . . . I remember my childhood, the race problems, and how bad it was in the 30's".
Here we see a clear indicator that King not only valued the blues from a purely musical point of view, but also by how much it defined his identity. The blues were not simply a part of his childhood, they were also a way of getting through the tough times, a genre that belonged only to his downtrodden people, something created by black people for black people. For B.B. King, the blues was the true voice of black America.
By the 1980s, King was firmly established as a blues legend, continuing to release successful album after successful album and touring into well his 80s, playing his last gig in 2014. His legacy has truly endured, and his seminal style has echoed for generations across the globe, with subsequent musicians influenced by his style too numerous to count. On 14th May, 2015 B.B. King sadly died at the age of 89, calling time on a magnificent career that spanned many decades and redefined not only blues music, but popular music across the spectrum. The great man is still missed, but his legacy will live on forever.
Listen...
Five essential B.B. Kings tracks to listen to:
The Thrill is Gone
Riding with the King
3 O'Clock Blues
Every Day I Have the Blues
When Love Comes to Town (with U2)
Five B.B. King tracks you may not be familiar with:
Other Night Blues
Better Not Look Down
Fishin' After Me Aka Catfish Blues
You Won't Listen
I Can Hear My Name Aka My Black Name
Sources:
'The Devils Music - A History Of The Blues' (1976) Fagandini, M., ed., BBC,
http://www.bbking.com/content/about
https://www.thefamouspeople.com/profiles/b-b-king-6210.php
https://www.notablebiographies.com/Jo-Ki/King-B-B.html#:~:text=King%20was%20born%20on%20September,him%20a%20few%20years%20later
https://www.rollingstone.com/music/music-news/b-b-king-how-i-got-my-sound-35759/