Selected News
Dereham rocks on opening night!
Dereham Blues Festival 2019 well and truly kicked off last night, Wednesday 10th July, with a packed audience of appreciative music lovers at Dereham Memorial Hall to hear fantastic sets from some of the most accomplished musicians in the blues universe!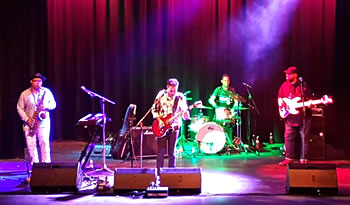 Ron Sayer writes a lot of the material he plays and described how he wrote the highly original 'I could agree with you baby, but then we'd both be wrong'. All in all it was a stormin' set and set an incredibly high expectation for the act which was to follow.
Hamilton Loomis had brought bassist Mike Meade and saxophonist Fabian Hernandez with him from Texas for his UK tour and, together with British drummer Will Morris they rocked the Dereham Memorial Hall for 90 minutes of incredible musicianship.
The set featured possibly the most original and virtuoso bass solo ever seen in the Memorial Hall as well as an extended jam which featured almost the entire Led Zeppelin repertoire. Hamilton jumped off the stage and joined the audience, even running up to the balcony, all the while playing his heart out.
Both acts made a lot of people very happy and gained many, many new fans. What a start to what looks like being the best festival yet!
Previous news
Hamilton Loomis to open the seventh Dereham Blues Festival
All the way from the US and steeped in Blues, Texas superstar Hamilton Loomis will open for the seventh annual Dereham Blues Festival
read more...
Older news