Where to start with Robert Johnson?
Newsletter issue 4, 5th Oct 2020
Countless names are inextricably linked with the blues; legendary figures such as Muddy Waters, Bessie Smith, and Howlin' Wolf are synonymous with the genre. But despite the endless roster of heavyweight household names that could easily be reeled off, one man stands above them all as the universally acknowledged granddaddy of the blues – that man's name is Robert Leroy Johnson.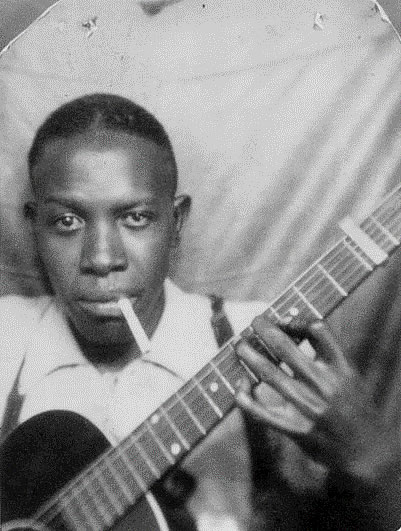 Believed to have been born on or around 8th May 1911 in Hazelhurst Mississippi, Robert Johnson's fame and stature as the founding father of the blues is secure not only because of his musical talent but because of the myth and legend that had grown up around him over the years.
As the story goes, Johnson was initially terrible at playing the guitar, finding himself consistently in the shadow of his (also legendary) mentor Son House. While walking through some crossroads one night, though, Robert Johnson is reputed to have encountered Satan himself who offered him a deal: in exchange for unparalleled musical talent, he had to hand over his soul. Johnson accepted the offer and was immediately gifted the power of song.
This famous story nicely augments the undeniably small canon of music Robert Johnson actually managed to record before he died at age 27 in 1938, with both the tall tale and his innovative guitar style fusing to create a true icon of the blues, albeit one shrouded in mystery. No-one can be sure how exactly Johnson died, the most popular explanation being that he was poisoned by the jealous husband of one of his lovers (just before Johnson was about to hit the big time and play Carnegie Hall too); there are only three confirmed photos of him; he only recorded about 30 songs; no-one knows where his musical talent suddenly appeared from. The man was and remains an enigma.
Riley's talent was so phenomenal that he quickly gained a slot on Sonny Boy Williamson's radio programme on KWEM out of West Memphis. Success continued on another Memphis radio station - WDIA – where Riley was rewarded with his own 10-minute segment called 'King's Spot', and it was at this point he adopted the more catchy stage name that is known the world over today, B.B.King (short for 'Blues Boy' King).
Of the 30-odd songs that he did record, though, not one is lacking in brilliance. Johnson's innovative and passionate take on the fledging blues genre has influenced almost every subsequent blues artist from B.B. King to The Rolling Stones. His music expressed a life plagued by torment, inner demons, passion, addiction, whiskey, and women – the archetype of what an old-time bluesman should be. It was widely acknowledged that his guitar could 'speak' - appearing as if the notes coming from the instrument were so intertwined with what Johnson was singing that the two were inseparable:
"His guitar seemed to talk – repeat and say words with him like no one else in the world could. I said he had a talking guitar and many a person agreed with me."

Johnny Shines
Despite there being many other accomplished and innovative bluesmen and women around in the early 20th century, including the aforementioned Son House, Lead Belly, Blind Blake, and Blind Lemon Jefferson, Robert Johnson holds a special and legendary place in the folklore of the genre – a lofty pedestal from which he is never likely to be toppled.
Listen...
Five essential Robert Johnson tracks to listen to:
Sweet Home Chicago
Come On In My Kitchen
Me and the Devil Blues
I Believe I'll Dust My Broom
They're Red Hot
Five Robert Johnson tracks you may not be familiar with:
Stop Breakin' Down Blues
Love In Vain
Terraplane Blues
Last Fair Deal Gone Down
Hell Hound On My Trail
Sources:
'The Devils Music - A History Of The Blues' (1976) Fagandini, M., ed., BBC,